About
My Hope...
The basis for everything I do, is always based upon listening to your own gut and letting your own intuition and body wisdom guide you. Why? Because no expert, or specialist, or PhD knows your body better than you do. No one knows your higher purpose and passions better than you do. Your conscious mind may not know, yet. But your body and your spiritual self know. So in all things, Listen To Your Gut (LTYG). Because it will never steer you wrong. And then combine that with research, reason and trial-testing and you'll be unstoppable!


I'm here to help you connect to your inner strength, your own body wisdom, and then to give you the tools, resources and referrals you need to make your vision (for healing, for growth, for wholeness) a reality. Because the more you align with your core self (your authentic highest good), the more freedom you'll have in your daily life. And the more freedom you have, the more joy you'll have – in each and every day. And that, I firmly believe, is the point of life. It's why we're all here.
About Jini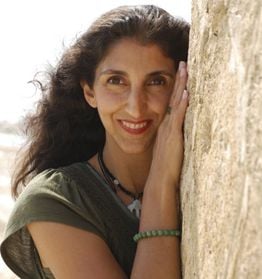 "You'll never be able to have kids, or hold down a job, you'll be in and out of the hospital for the rest of your life, but you'll qualify for disability insurance."
That was the pronouncement my doctor gave me back in 1986 after diagnosing me with a supposedly incurable disease (widespread Crohn's disease). I'm thankful the GI was so blunt and honest with me about my chances for recovery within the med/pharma system, because it really gave me the motivation to do whatever it took to heal myself!
After healing myself (I have been 100% drug and surgery-free for over 20 years), I made my healing methods available to other people with ulcerative colitis, Crohn's, diverticulitis and IBS. Since then, my first book, Listen To Your Gut, has become an international bestseller and I've appeared on numerous podcasts, radio, and TV shows throughout the U.S., Canada, the UK and Australia, offering hope and practical tools for people with IBD and IBS. I am not a doctor or licensed healthcare professional - I am simply a layperson who healed myself and has shared my healing tools/protocols with others for over 20 years.
I live with my husband and 3 children, along with a bunch of dogs, cats and horses in Langley, BC, Canada. You will see my kids pop up in my videos from time to time - helping me demo things for you - and I'm currently shooting a healing workshop series with my horses. Equines are incredible teachers and healing facilitators - I'm excited to share their gifts with you soon!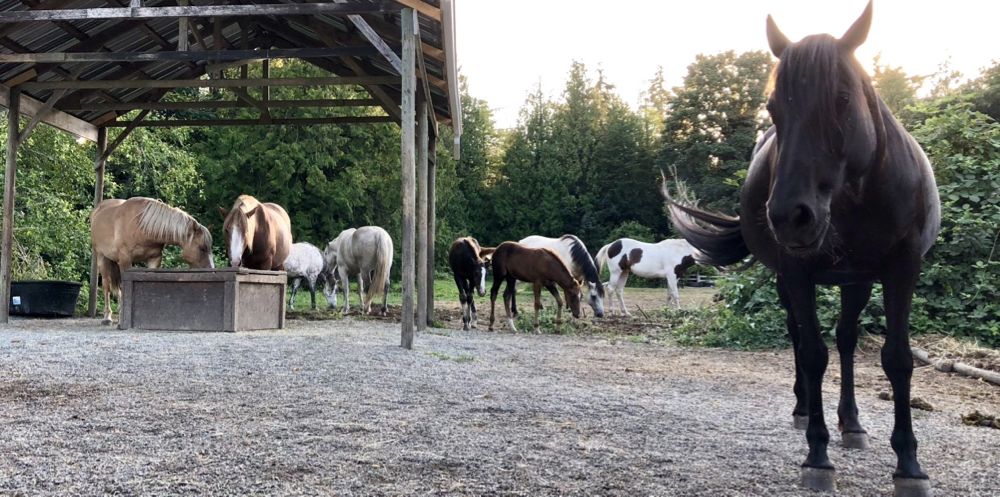 Back in 2007, I started creating resources for my readers who were already healed of their digestive disease, but wanted to progress even further into full-body, vibrant living. There is a huge difference between being disease-free and being vibrantly healthy. In the years since then, we have amassed fantastic resources like teleseminars, podcasts, videos etc. all dealing with very specific aspects of optimal health – like safe detox and pH balance, emotional and spiritual healing, hormone balance, dental health, etc. I have made all these fantastic resources also available to you on this LTYG site. Many of these resources are available for free on my blog - just enter your question or keyword into the Search box. Or you can start with the Podcast section, or the Book section.
Everything that I've done, since I published my first book back in 2000, has been in response to things I needed in my own life, or things my readers have asked me to do. That's how my LTYG Shoppe came into being. My overseas readers in places like Slovakia and Hong Kong were emailing me saying, "The shipping charges are killing me! Isn't there just ONE place I can go to get all the supplements recommended in your books – rather than having to order from 10 different companies?" After setting up the Shoppe, it grew so quickly that my husband Ian closed down his business to come and run it for us.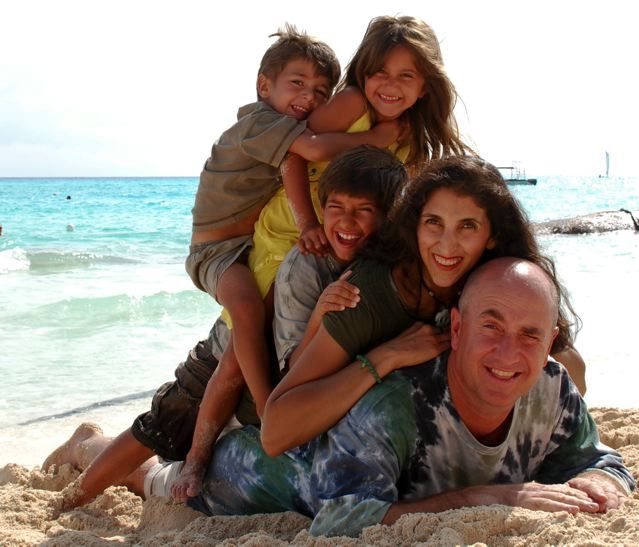 Likewise, the supplements that I have formulated (like Absorb Plus, FissureCalm, MucosaCalm, etc.) also came from need – I needed these things to heal myself and they didn't exist. So I created them, and Imix Nutrition manufactures and makes them available to others who are suffering.
My hope for you is that you can learn to connect with and listen to the amazing wisdom contained in your own gut. You may call this your body wisdom, intuition, precognition, a hunch, or the still small voice. Whatever! Just open to it and begin to trust and by listening to your gut you will move closer and closer to the fullest, most amazing expression of yourself on this earth. Someone that is strong, healthy, vibrant, joyful, playful, adventurous and filled with peace.
I designed this site to have lots of free information and resources on a variety of ailments and conditions. So take your time, look around, and sign up for whichever courses, newsletters, or free reports catch your interest. I also post lots of free information including reports, recipes, videos and teleseminars on my blog and YouTube channel.
READER FEEDBACK
"My daughter had her check up with her Paediatrician yesterday he was amazed at her histology and also her Colonoscopy results. He actually took notes to see what I have been doing. He was so sceptical in August but was astounded at how minimal her inflammation is and he is actually taking everything from your book seriously he has ordered a copy of listen to your gut and has asked me to give him a break down of everything. I will keep shouting your name from the rooftops thank you so much!"- N.P., London, UK
*     *     *
"I have better health now, then before I got the disease! When I read this book I was in bed and I weighed about 129 pounds. I had lost 45 pounds leading up to that and was just so weak and couldn't move. I kind of felt like my entire life was going to be about that. And I knew that there were some answers out there, if I could just find them, that would help me get back on my feet. I had resisted taking Prednisone for a very long time and had gotten just so sick that it was starting to compromise greatly the quality of my life. My wife was pregnant. It was just not a good time for me not to be a hundred percent. I don't think there ever is a good time not to be a hundred percent. But, you know, Jini's book was like a friend.
And as I laid and read this book, it gave me not only comfort and strength to feel that I could get through this, it gave me knowledge and it gave me tools. Some of the simple things I did immediately and it truly helped me to get out of that bed.
And it helped me mentally because so much of this dis-ease, as she calls it and others call it, is mental. Now I know a lot of people might have a hard time with that but I know from dealing with this for six years and now being back to the weight that I was, having better health than I had before I got the disease, that getting yourself in check mentally is something that she really emphasizes. As well as supplements, as well as nutrition.
And this idea that one size doesn't fit all. And that's what western medicine wants to do. Western medicine wants to give you something to deal with the symptoms. But really it's about going inside. And Jini's book and her teachings literally guide you through that, give you lots and lots of choices because it is an individual experience. One thing does not fit all.
As a result of me reading her books and re-reading her books and giving her books to people that come to me - I just can't tell you how much comfort and how much knowledge that I have gained from her. And now I seem to be a little bit of a magnet for people going through this, or who have just been diagnosed. And it brings me nothing but joy to kind of spread the knowledge and to point them in her direction.
To this day - I signed up for all these chat rooms and all these things when I was first diagnosed. And I have systematically gotten rid of it all. There is no quick fix. It's a personal journey. And Jini Patel Thompson is the person to take you on that journey. And I so appreciate her and I so appreciate her teachings. I've been inspired by her and it's my pleasure to give this testimonial. I wish I could give my phone number out to people to call me because I care that much and I know she does." - Jim P., California
*     *     *
"They haven't found any Crohn's. Jini & the team have certainly put in a huge amount of effort to produce the books. Finally somewhere to get information that doctors couldn't (but should) provide. My attitude towards my own health has already changed. Knowing that there is hope of leading a normal life where I am in control and not the Crohn's. Diet, positive thinking and visualization has made a huge difference on my general well being.
I was diagnosed with Crohn's at age 16 and have now had it for 14 years. I have had 3 bowel resections, the first due to the Crohn's, the second was a stricture and the third was a twisted bowel when I was pregnant with my first child.
I am now drug free and follow a (not so strict) Low Fructose diet, which has made a world of difference. I am now at the stage where my symptoms are more of a severe irritable bowel (so the doctors diagnose) as they haven't found any Crohn's since I was first sick." – Deanna W., Australia
*     *     *
"My son is graduating from College tomorrow! Our family is indebted to you that much and more. You are definitely one of my very favorite people in the whole world. Why? Well our youngest son, J., was diagnosed as having ulcerative colitis when he was 18. We never did get enthused with the typical drug treatments prescribed (I was always a bit skeptical of traditional medicine) mostly because they made him feel worse. We tried some of the same "cures" you tried for your problems such as Elaine Gottschall's recipes complete with almond flour from CA. My wife spent many hours baking for him, but eventually he said the almond flour was not agreeing with him. I told him we still had a couple of other options. One was the fruit and vegetable diet that David Klein had used to cure himself and the other was the IBD Remission Diet from your book of the same title.
We decided to start out with your shakes in the fall of 2006. I was not sure he would find them an acceptable substitute for his regular diet but he was not feeling too good and was anxious to try something. We added flax seed oil to the shakes and he found them quite agreeable and for a few months they were about all the nutrition he took in. He immediately commented that he had more energy (he really had not been taking in enough calories).
In January of this year he had another complete examination of his digestive system at a different clinic and the doctor said he was 95% confident that he had no inflammatory bowel disease (no ulcerative colitis, Crohn's, or celiac disease). I was happy to hear that but not too surprised. J was also happy but also puzzled as to what had caused his discomfort and some other symptoms. I pointed out your thinking on bowel problems being on a long gradual spectrum from minor distress such as IBS to severe Crohn's.
His problems could have had any of a number of origins or combinations of origins - allergies, candidiasis (he had never eaten a good diet from my point of view - as a baby he shunned vegetables and lived on milk and peach cobbler), and lack of exercise - I made the mistake of getting him a computer when he was about 5 and his favorite pastime is gaming.
J is graduating from college tomorrow - major in finance. I would hate to go so far as to say it is good that you had bowel problems because otherwise you would have not done the extensive investigative work you did, would not have written your great books and not created the shakes that helped prepare J for that second favorable diagnosis. But, since you did have your problems you did do the investigative work, wrote the great books, and created the great shakes, and J and I and my wife and the rest of our family will always be indebted to you - thanks much!!!!" - Dave B., Ohio
*     *     *
"I am like a normal, healthy person again. I come from Slovakia and my problems started 7 years ago after stressful period of my life. At the beginning I had only mild inflammation, and after colonoscopy was diagnosed with proctitis. I received medicaments and hoped it will go away. I knew nothing about my disease but by the time I realized the medicine is only to suppress the symptoms and not for treatment!
After several flare ups the things got worse and I was unable to bare the situation both mentally and physically. The doctors were not very helpful, just increased the dosage of medicaments. So I started to experiment myself.
After intensive search on the net I ordered a book from Elaine Gotschall and started with SCD. First time after 5 years I could really see the improvement and was very optimistic. My condition improved a lot but after 6 months on the diet I realized it does not get further. As I had problems with constipation, my stools were often bloody.
Then I ordered Jini's Listen To Your Gut book and started taking vitamin C, Omega-3, Mucosal Heal and probiotics. This book is full of useful information one can find nowhere else, I have to admit I did not expect such a complete healing program. After couple of weeks I lost all the symptoms and slowly started with less strict diet according to the book. Since last November I am like normal healthy person again, just have to be careful with the food as my gut is very sensitive for bad things. I am still taking vitamin C, Omega-3 and probiotics, and I am really happy to be healthy again thanks Elaine's and Jini's books. What I find as most important is the fact that in the case the symptoms reappear I know exactly what to do." - Maria N., California
*     *     *
"I was told I would need to take pills for the rest of my life and now I take none! The initial diet was quite strict however, I now have quite a regular, normal diet and consume small portions of alcohol. Obviously this is a fantastic situation from the prospect of being told I would need to take pills for the rest of my life to where I take none. Many thanks for the advice in your manual." - Max R., Dublin
*     *     *
"I truly feel that your information saved her life. I have purchased Listen To Your Gut and The IBD Remission Diet and I am forever grateful for the emails! My daughter was diagnosed with Crohn's Disease a few years ago after a long process of tests by many kinds of doctors . . . over several years. She was very ill by the time she was FINALLY properly diagnosed. After a terrible scare with Remicade I searched the internet for other solutions and found you!
We have tried many of the suggestions in your book and carry it around for easy reference all the time. Recently she experienced another blockage and we decided to try your natural methods at home (no hospital) using no pain meds or prednisone . . . just Absorb Plus, colonic massage, tea, water . . . she made it through after five days! Yeah!!! She is still using Pentasa and Mercaptopurine. We are shooting for no drugs. Soon I hope.
As a parent I know you understand the love you have for child and the pain you experience when they are so ill. I truly feel that your information saved her life. I can't thank you enough! She is now 22 about to graduate from college in December and planning to be married soon! Just not too long ago we thought those things weren't possible. I forward your website to people all the time!
p.s. - your staff is wonderful. Always helpful, very responsive! I am grateful for them too!" - Pam M., Texas
*     *     *
"If you are seriously are looking to heal yourself, order Jini's book. I was very sick and diagnosed with 80% ulcerative colitis in December 2006. I found Jini Patel through the American Colitis and Crohn's Society as she was on the recommended reading list. And I looked into her web site and bought her book almost right away.
I started implementing her advice thoroughly and in three months there was a huge improvement in my situation. In six months I was almost symptom-free, and now a little over one year, I am practically totally healed and can eat almost anything I want. If you seriously are looking to heal yourself get in touch with Jini and order her book. You truly won't be sorry." – Bill S., Quebec
*     *     *
"For the last 23 years I have had a bacterial infection in my gut which eventually led to Ulcerative Colitis at the age of 21, in addition to struggling with anorexia when I was in my teens the first 24 years of my life haven't been lived in the best health. When I was ready to come to terms with both of these conditions, which together were not a good combination, I found your website.
For the last 2.5 years I have been attempting to follow your protocol for complete healing whilst still pushing myself without realising what a toxic habit I was in of forcing myself to do everything to the absolute best, if not beyond, my capabilities. Just before Christmas I contacted you regarding the struggles I had been having with not being able to tolerate the full spectrum of probiotics. Then I stopped trying, I stopped working, I stopped feeling that I should be different from the person I am and accepted that to gain health which I always knew was possible for me maybe I needed to change my approach to myself.
Over the past 6 weeks I have gained an inner voice which I had long lost and grown so much as a person. Getting to grips with the idea of emotional healing has been very hard coming from a traditional English family where emotions are something for the weak! However, having always prided myself on this notion I now realise that there are different types of strength and in fact facing myself is the hardest thing I have ever done, and continue to do, and the strength that it has taken has been something which I didn't know I had. From the bottom of my heart Jini I thank you!" - E.M., England, UK
Note from Jini
I always love to hear feedback from my readers about how they are using natural remedies and treatments for their IBD/IBS, including what they thought of the book(s), which therapies and/or supplements were particularly helpful, and basically just to hear people's stories.
Sometimes people deal with very complex or challenging circumstances, so their story can be quite encouraging for others who are struggling and I love to feature these on the blog (with permission of course!) from time to time.
Although I have received literally thousands of thank-you letters and emails over the decades since I published the 1st Edition of Listen To Your Gut back in 1999, these are just a few to give you a sense of what my natural healing protocols are about. I encourage you to download Chapter One of any of my books (for free) to see if this way of healing resonates with you - it's not for everyone and it doesn't work for everyone. So listen to your gut and follow the path of healing that's right for you.
A Note About Success Stories: We do not list people's full names or city for privacy reasons – bowel and colon conditions are very personal, and people may be discriminated against (for example at work). These results are for informational purposes only - we're sharing them with you so you can see the potential of these treatment protocols. We are not making guarantees or promises that you will be able to achieve the same level of success we have. We're only trying to help you understand what may be possible if you use Jini's natural remedies and treatments just as she describes.